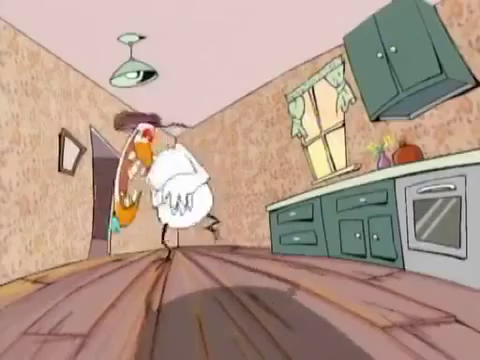 I don't care who you are; that's fucking terrifying.
SPOILERS FOR GRAVITY FALLS 2x02 "INTO THE BUNKER" & 2x03 "GOLF WAR," VARIOUS COURAGE THE COWARDLY DOG EPISODES, VARIOUS ARE YOU AFRAID OF THE DARK? EPISODES, STEPHEN KING'S IT, THE NEW BATMAN ADVENTURES 1x12 "OVER THE EDGE," and probably various other things that I'll have to edit into here as I listen back tomorrow.
In this episode:
It's our 50th episode! We...didn't plan anything particularly special.
Join us as we venture into the realm of children's horror and a discussion of its importance.
...which lasts a few minutes or so, and then we just start listing off our favorite Courage the Cowardly Dog and Are You Afraid of the Dark? episodes.
We take a quick detour into the land of Tim Burton--specifically, his use of a lot of horror aesthetics without actually making "horror movies," per se.
Children's horror covered in this episode:

The Beetlejuice cartoon
Gravity Falls
Courage the Cowardly Dog
Are You Afraid of the Dark?
Aaahh!!! Real Monsters
Nickelodeon's Halloween specials
Batman: The Animated Series
Neil Gaiman's Coraline
Scary Stories to Tell in the Dark
The Goosebumps books and TV series
Hocus Pocus

They got away with so much shit in the 90s. Like, seriously.
I couldn't find a particular quote with Neil Gaiman talking about the importance of children's horror, but here's the comment on his journal about whether or not Coraline is appropriate for young children, and how children and adults receive the story.
Here's the Gammell illustration for Scary Stories that I always think of.
We hit Twitter at the end of the episode to see what others recalled from their childhoods. Thanks for the responses!
THERE'S ALWAYS AN ADDENDUM:
I couldn't find a clip to link to for where I got the title of this episode from, so here's a screenshot of the moment. (In all honesty, when is there going to be a better time for me to make this reference?)
Fio pointed out that when I said "Tia and Tamara Madly," I meant "Tia and Tamara Mowry." The brain does funny things with memory.
From Fio: If any of our listeners could explain exactly what the fuck was going on in Aaahh!!! Real Monsters, that would just be splendid.
Also from Fio: Okay, so the JtHM comic comment was a bit of an exaggeration, I think they might have decided to give him the cartoon in the middle of Squee!, so after JtHM.
More from Fio's timemarks:

7:12 - You pronounce "neither" like "naayther" here. So. 'Sup with that?
1:03:00 - Part of the AMoT Drinking Game should be "Take a drink every time Fio goes out of his way to mention Mia Kirshner, Neve Campbell, or Winona Ryder"
1:24:10 - I wasn't quite sure about the timeline here, but there's definitely a big gap where I wasn't really reading any horror between Goosebumps and King. I'm pretty sure all of fourth and fifth grade for me were just nothing but Harry Potter.
OH MY GOD IM PRETTY SURE THE SEAN CONNERY SNOWMAN'S BACKSTORY INVOLVED HIS LOVE INTEREST GETTING FRIDGED
Comparing Twilight Zone to Are You Afraid of the Dark I'm stumbling around a lot, I think when it comes down to it my point is that one of these shows has Rod Serling and the other one doesn't.
Hocus Pocus. That is all.
Music:
Intro: "This is My Design" - original song, music by Ian. More on this as it develops.
(Header image from
http://courage.wikia.com/wiki/File:Vlcsnap-2013-03-25-11h55m54s206.png
)
http://archive.org/download/AMOT050/AMOT050.mp3